Nvidia GeForce Now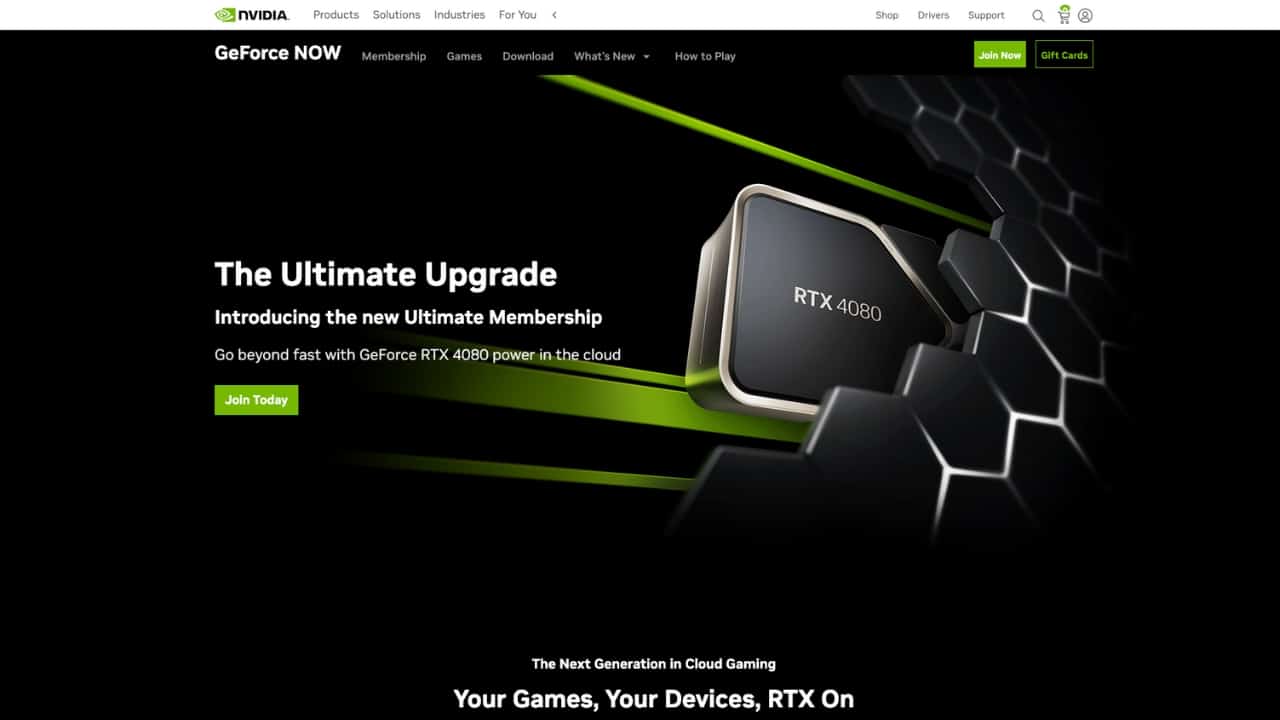 Type: Bring-Your-Own-Games
$0,00 / month
Starts from
If you're looking to play some of the best looking games of the last few years, but don't want to invest in a new computer, GeForce Now might just be the solution for you. Keep reading to find out what GeForce Now is, how it works and why you should definitely give it a try.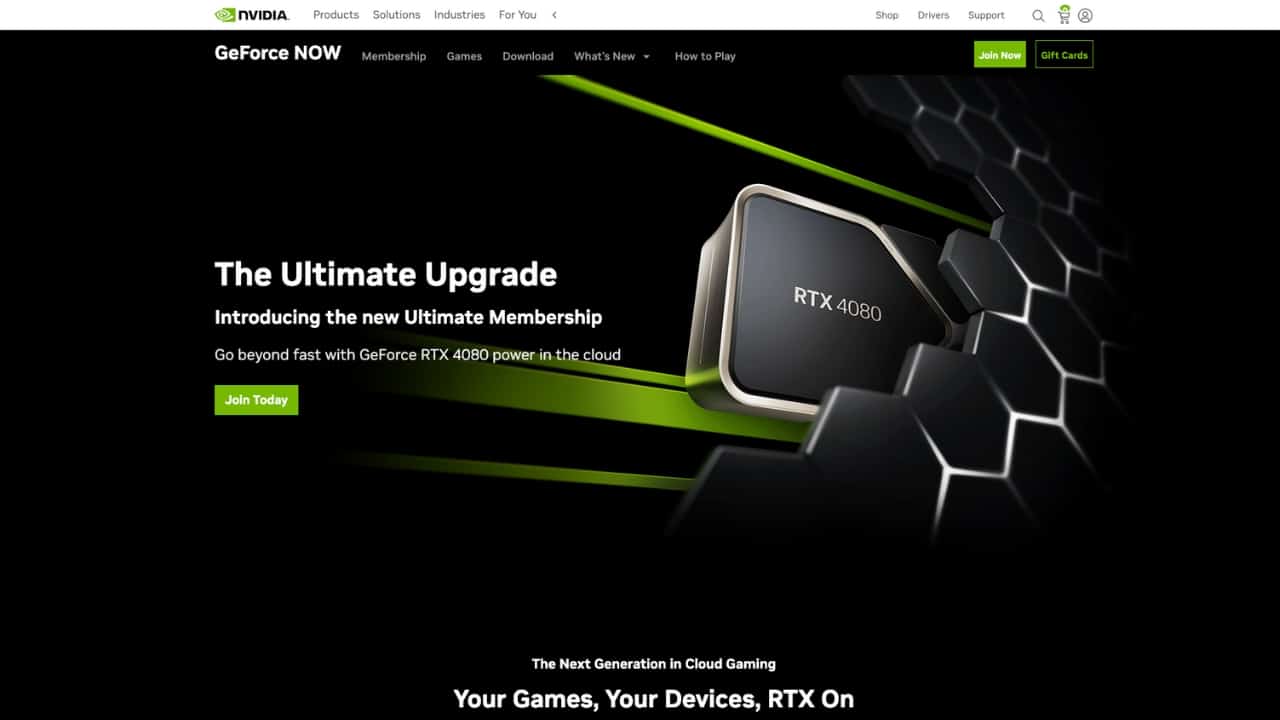 Ultimate Guide
Geforce Now Cloud Gaming
Dive into how Geforce Now Cloud Gaming works, its pricing, game offerings, device compatibility, how and where you can use it.
Last updated on 12. October 2023
What is Nvidia GeForce Now?
GeForce Now is one the most popular cloud gaming service options on the market. You can think of GeForce Now as an awesome gaming PC in the cloud – and it's available for you to play on.
Instead of running games on your own hardware, which requires you to have an up-to-date gaming PC to play new releases, GeForce Now lets you play games on a PC in the cloud instead. Your inputs are sent to the server, which in return provides you with a video stream of the game you're playing.
This has huge advantages, but also certain disadvantages – keep reading to find out more.
How does Nvidia GeForce Now cloud gaming work?
One of the cool things about GeForce Now is that you can play games you already own. While other cloud gaming services like Xbox Cloud work more like Netflix, as in they provide you with the hardware as well as the license to play certain games, GeForce Now provides you with just the hardware. This is great if you already own the titles you want to play as it makes the subscription much cheaper.
However, not all games are available to play on the service. Companies need to make their games available on the platform through a whitelisting system and some publishers have opted out. Publishers that have pulled support include Blizzard, Bethesda, 2K, Rockstar Games, Square Enix, and Capcom. With over 1000 supported games, the list of choices is still almost endless though. For a full list of available games, see our GeForce Now Games List.
To get started, you first have to select a pricing tier, which dictates your cloud hardware's power as well as the level of access priority you have.
How much is Nvidia GeForce Now and which plans are available?
There are currently three different plans available: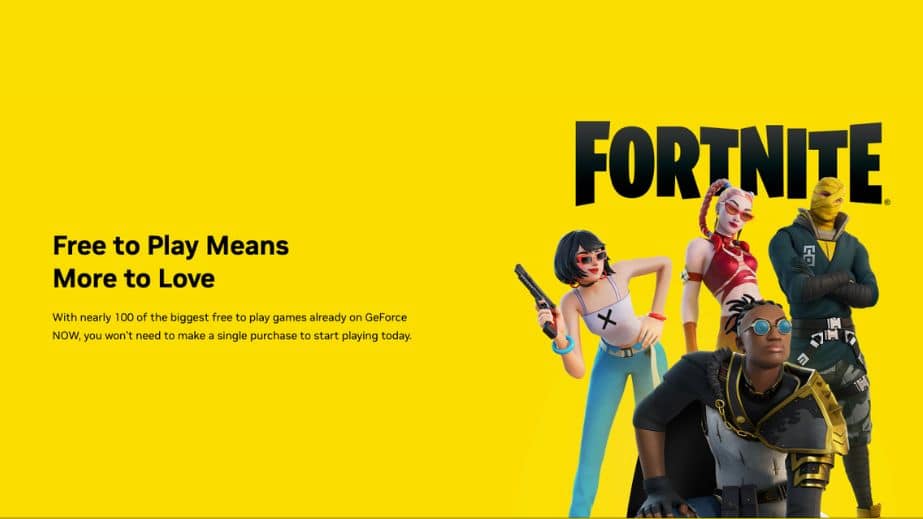 Free
One key aspect that sets GeForce Now apart from its rivals is that you can try it for free. There are, of course, certain limitations, but it's a great offer if you want to test it out first before making a decision. As long as you already own a compatible title, or want to play a free-to-play game, you can play on GeForce Now without paying even a single dollar.
Priority
If you require a bit more power and more reliable access to Nvidia's cloud servers, you'll need to start paying for a subscription. The service's Priority tier offers two payment options:
Monthly subscription at $9.99/£8.99/€9.99
6-month subscription at $49.99/£44.99/€49.99
As you'd expect, joining GeForce Now at this tier offers a fair few upgrades to the free access, including some elevated priority in the queue as the name implies: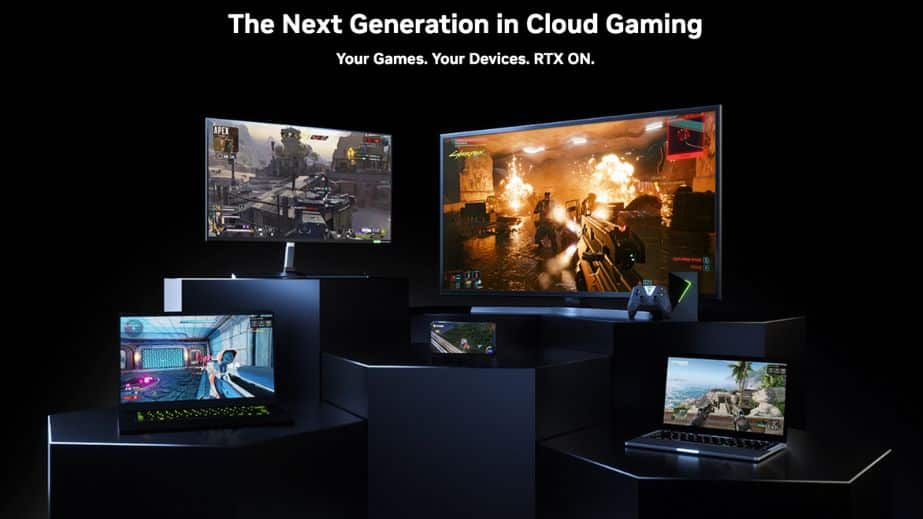 RTX 3080
Looking to step up your cloud gaming game even further? Then you'll likely want to subscribe to GeForce Now's RTX 3080 tier. As with the Priority tier, this one has two payment options as well:
Monthly subscription at $19.99/£17.99/€19.99
6-month subscription at $99.99/£89.99/€99.99
The jump in pricing is quite significant but so are the benefits:
Are games included in the subscription?
GeForce Now offers access to a large variety of free to play games like Rocket League, Fortnite, Path of Exile. Besides that though, GeForce Now does not include game licenses in any of its pricing tiers. Discover all supported f2p games in our list of free GeForce Now games.
Can I play games I already own on GeForce Now?
Yes, Nvidia's cloud gaming service is explicitly designed to allow you to stream and play your own titles. All you need to do is link your store account with GeForce Now and you're ready to go. Keep in mind that not every game is available on GeForce Now though. For a full list of all available games, see our GeForce Now Games List.
What gaming platforms does GeForce Now support?
You can connect your Nvidia GeForce Now account to the following gaming platforms and play your purchased games on the service:
What hardware specs does GeForce Now offer?
While GeForce Now allows you to play your library on cloud-based hardware, you're not quite getting a dedicated PC rig. Instead, Nvidia uses huge servers with special CPUs and GPUs. The physical servers are split into multiple virtual machines – and depending on your membership plan, you get access to more or less processing power.
The CPUs used seem to be Intel CC150s, a special server chip that isn't available to the general public. On the video processing side, we see an equally interesting situation. As you can imagine, Nvidia has a huge advantage over their cloud gaming competitors here – they are, after all, primarily a graphics card company. Nvidia decided to use Tesla T10 GPUs for GeForce Now, up to 40 cards per server. Each of those gaming beasts is capable of powering to 160 sessions at the same time.
The hardware allocated to you allows you to stream games in the following resolutions, depending on your internet connection:
Priority

Up to 1080p
Up to 60 frames-per-second

RTX 3080

Up to 4K
Up to 120 frames-per-second
Keep in mind that those numbers are regarding the video stream quality – depending on your subscription and the game you're playing, the servers might not be able to run the game in such high quality.
On which devices can I use GeForce Now cloud gaming?
You can run games on GeForce Now via the following devices and platforms:
If you're looking to use GeForce Now on a Mac computer, you'll need to use the dedicated app as desktop Safari isn't compatible with the service.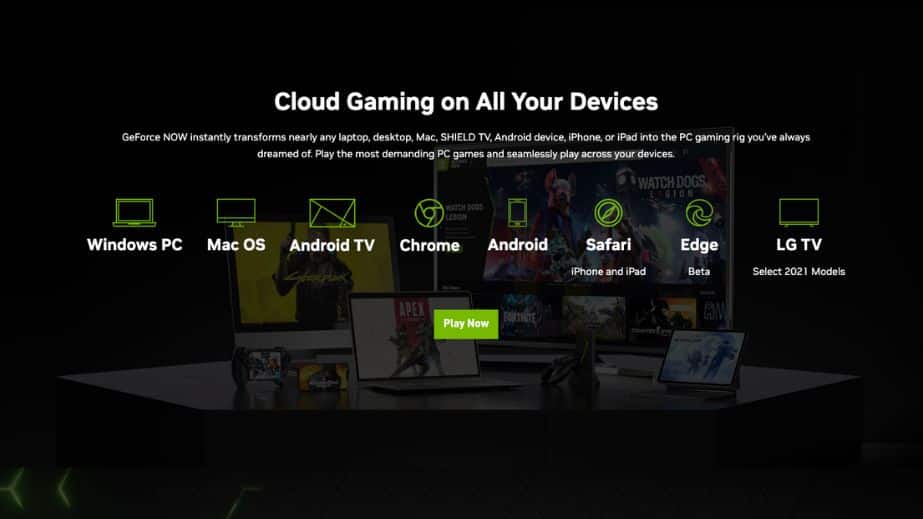 What do I need to play on GeForce Now cloud gaming?
To play on GeForce Now, you'll need the following:
If you're looking to use GeForce Now on a Mac computer, you'll need to use the dedicated app as desktop Safari isn't compatible with the service.
Is GeForce Now worth it?
Nvidia's cloud gaming offering is relatively unique in the game streaming space. Its value will greatly depend on your personal preferences and your internet connection. The following Pros and Cons focus on GeForce Now compared to other cloud gaming services – if you want to learn more about the (Dis-)advantages of cloud gaming in general, check out our article about Cloud Gaming.
Pros
The immediate advantage of using GeForce Now is that you can use the library of games you already own. It does not force you to buy your games again, which was a disadvantage with Stadia, for example. This reduces the overhead cost of using the platform as you only need to pay for a monthly or 6-month subscription. Among all of the cloud gaming platforms, GeForce Now is one of the cheapest options.
GeForce Now also supports all major storefronts. It doesn't matter if you bought Satisfactory on Steam or Epic Games, you can simply choose which storefront you want when launching the game.
Another advantage is the simplicity. All you have to do to play is sign up, download the GeForce Now app and select your game – it's just as easy as playing on Steam.
Cons
As mentioned earlier, not every game is available to play on the service. Some of the most popular games of the last decade, like GTA V and Elden Ring, are not available. That's the biggest downside to GeForce Now compared to other options like Boosteroid and Shadow.
Conclusion
GeForce Now is an affordable and comfortable way of playing your existing game library in the cloud. Multiple AAA game publishers have pulled out, so if you're primarily looking to play certain unavailable titles, you're a bit out of luck. But, if the games you want to play are supported, then GeForce Now offers great value for your money.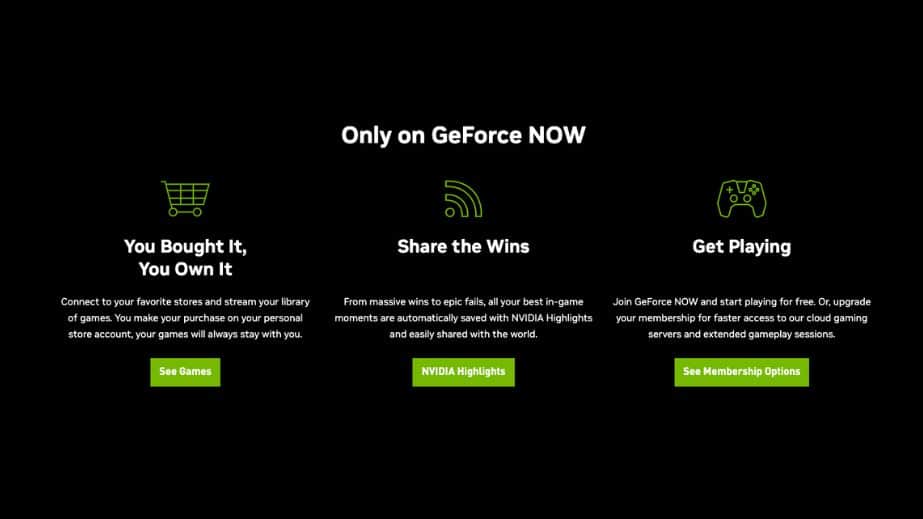 Where is GeForce Now available?
Nvidia has expanded its GeForce Now service to a growing number of countries and locations. The majority are operated by the company directly while some are offered through partnerships:
Nvidia

Åland (Finland)
Albania
Andorra
Anguilla
Austria
Azerbaijan
Bahamas
Barbados
Belgium
Bermuda
Bosnia and Herzegovina
British Virgin Islands
Bulgaria
Canada
Canary Islands (Spain)
Cayman Islands
Croatia
Cyprus
Czechia (Czech Republic)
Denmark
Dominica
Dominican Republic
El Salvador
Estonia
Faroe Islands
Finland
France
Georgia
Germany
Gibraltar
Greece
Greenland
Guadeloupe
Guatemala
Guernsey
Honduras
Hungary
Iceland
Ireland
Isle of Man
Israel
Italy
Jamaica
Jersey
Kazakhstan
Latvia
Liechtenstein
Luxembourg
Malta
Martinique
Mexico
Moldova
Monaco
Mongolia
Montenegro
Montserrat
Morocco
Netherlands
North Macedonia
Norway
Poland
Portugal
Puerto Rico
Republic of Lithuania
Romania
Saint Barthélemy
Saint Pierre and Miquelon
Serbia
Slovakia
Slovenia
Spain
Sweden
Switzerland
Trinidad and Tobago
Tunisia
Turks and Caicos Islands
U.S. Virgin Islands
Ukraine
United Kingdom
United States
Uzbekistan

GeForce Now Partners

GFN.RU

Armenia
Azerbaijan
Belarus
Kazakhstan
Georgia
Moldova
Russia
Ukraine
Uzbekistan

LG U+
Softbank
au
Taiwan Mobile
GAME+
Pentanet
Zain
ABYA

Argentina
Brazil
Chile
Paraguay
Uruguay

StarHub

Singapore
Indonesia
Malaysia
Philippines
Thailand
Vietnam
What are the alternatives to GeForce Now cloud gaming?
Many cloud gaming services focus on providing an all-in-one platform that provides both the games and the streaming. If you're looking for a direct alternative to GeForce Now that allows you to use your existing games library, you can try the following services:
Frequently asked questions