Shadow Cloud Gaming  – The Ultimate Guide
Most cloud gaming services only allow you to launch games from a predetermined catalog, you don't get full access to a remote desktop. Enter Shadow, a company that not only enables you to stream whatever games you want, but also allows you to go beyond that.
What is Shadow Cloud Gaming?
Shadow is a cloud PC service that rents out powerful hardware for you to use almost any way you wish. While you have an active subscription, you're given full access to a full-blown Windows computer in the cloud.
As you're essentially renting a PC, you can do everything that you would do with a physical one, including (but not limited to) gaming.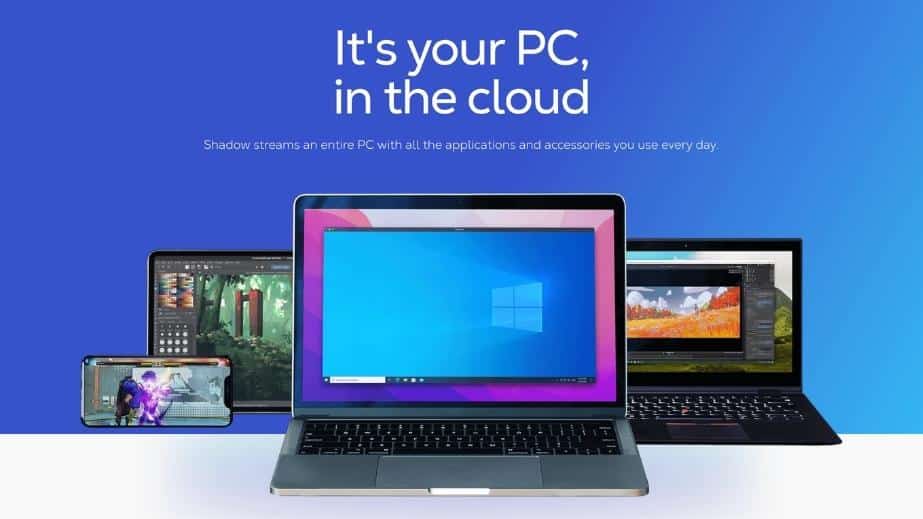 How Does Shadow Work?
Think of Shadow as having a gaming server in the cloud that you access via remote desktop tools. Playing games on Shadow works the same way as your own computer at home.
After connecting to your server with a program or app, you boot into a Windows environment where you can install whatever you want – including gaming platforms and titles. Shadow streams back the audio and video of your cloud machine, meaning that any games you play on the server will look and feel almost exactly as if you're playing it on your own hardware.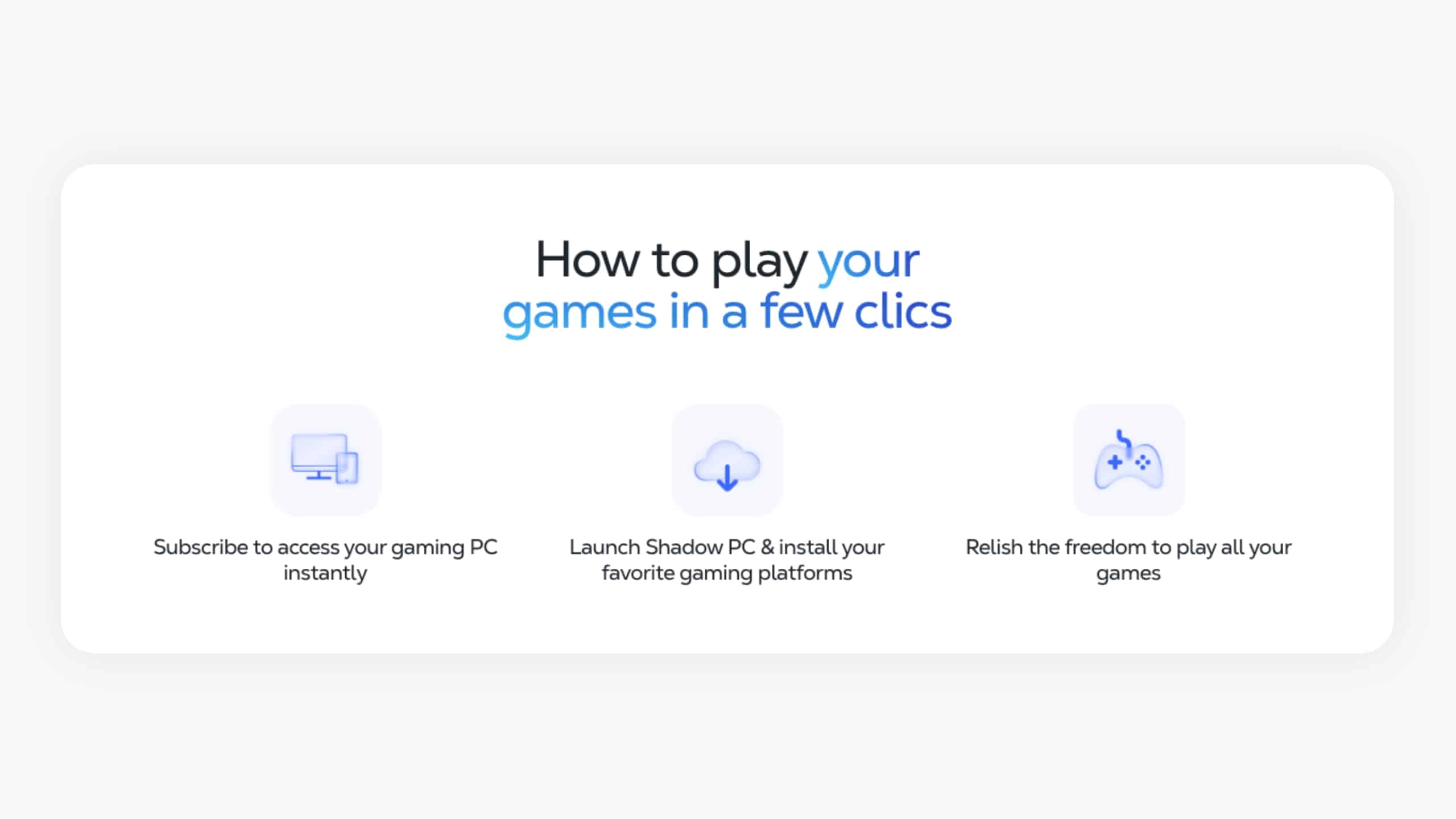 How much is Shadow and which subscriptions are available?
Shadow's main product is Shadow PC, the server rental offer mentioned above. On top of that, Shadow also offers two auxiliary subscriptions.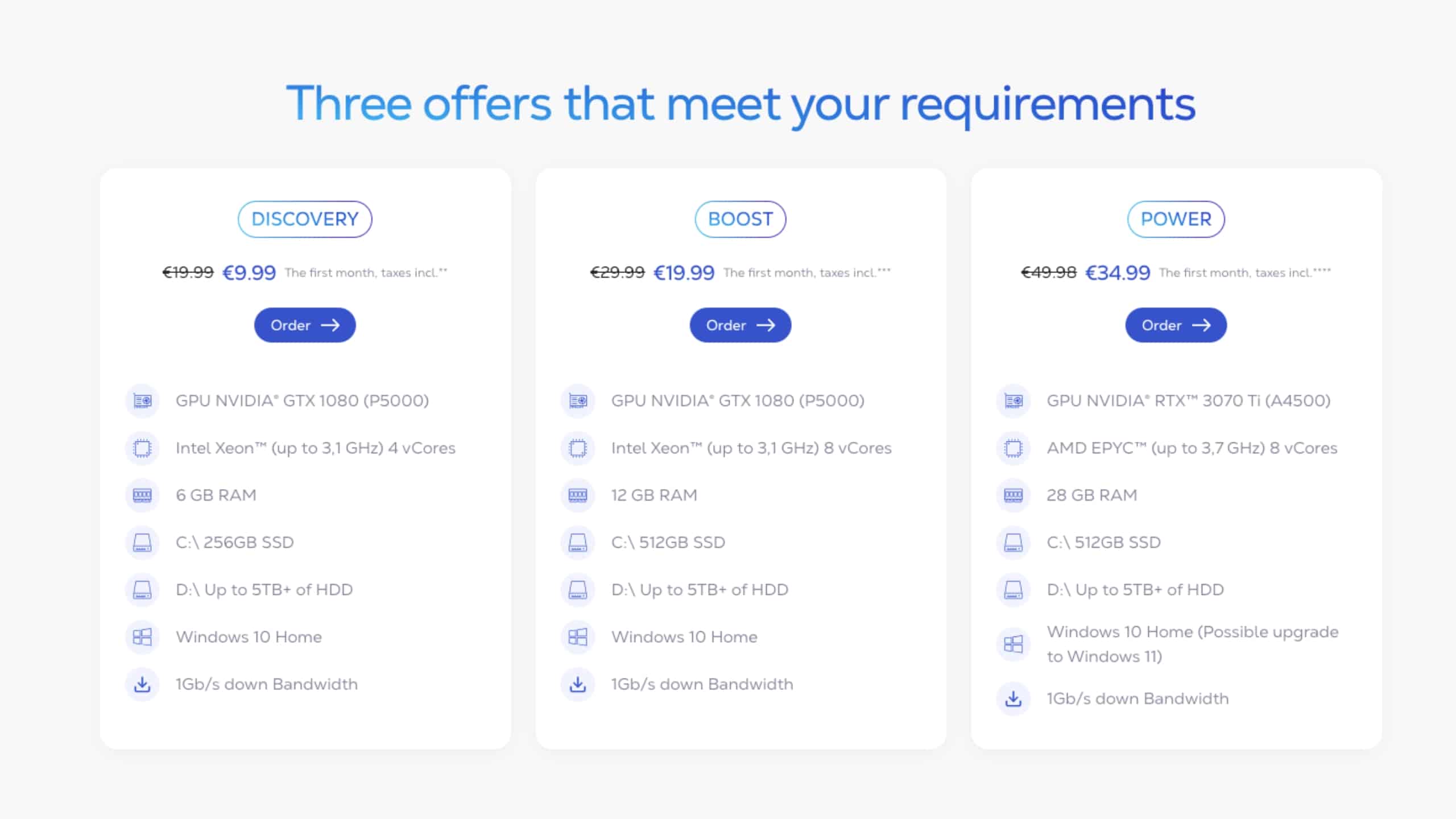 Shadow PC
This is the actual gaming server available for renting. Shadow has a single price tier at $29.99 per month. There is no option for multi-month or annual pricing. You can read more about the hardware you get later in this article.
Tip: With the voucher code SHADOW15, you get 15% off on the first month.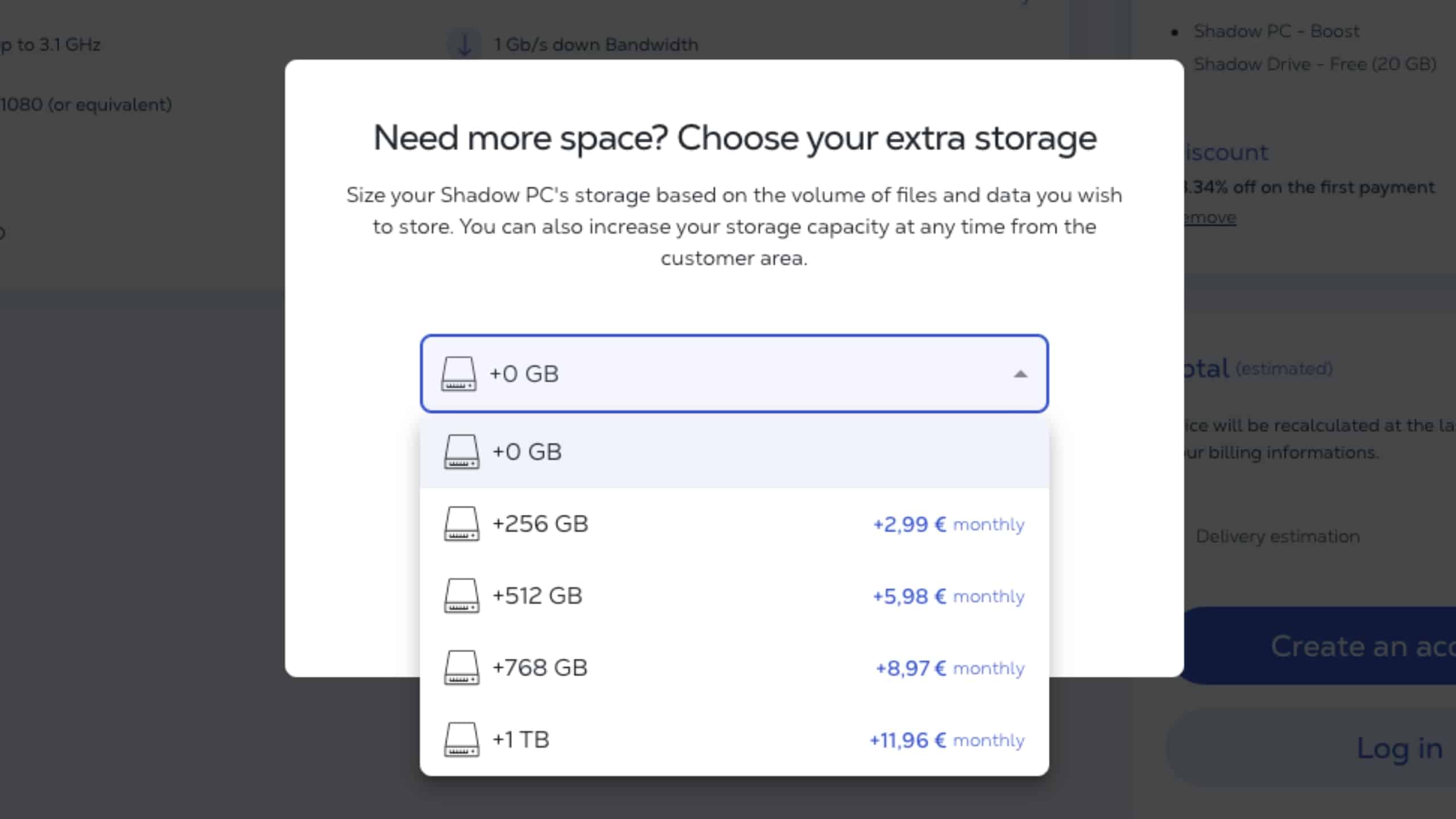 Shadow Power Upgrade
Starting late October 2022, you will be able to upgrade your Shadow PC with even more powerful hardware. This will cost you an additional $15 a month, bringing your total to $45/month. Read more about the offered hardware and how it compares to the baseline server below.
Shadow Drive
Shadow Drive is an upcoming cloud storage solution that is still being developed. According to Shadow's website, it will come with a free tier offering 20GB of storage and a premium tier at £8.99 per month with 2TB of storage. It's planned to be launched in autumn 2022 and will work similar to cloud storage services like Google Drive.
Shadow Business
Shadow also offers special conditions and solutions for businesses and organizations.
Are Games Included in the Subscription?
No, Shadow doesn't offer any games as part of their subscription. You are renting a cloud PC that works and runs exactly like a physical device running Windows.
Can I play games on Shadow I already own?
Yes, if you already purchased a game on Steam (or similar platforms), you can of course play them on Shadow. Simply download and install the gaming platforms on your Shadow PC as you would do with a physical device at home.
What gaming platforms does Shadow support?
Because of the nature of Shadow's service, you can install any gaming platform you want. This includes, but is not limited to:
What Hardware Specs Does Shadow Cloud Gaming Offer?
Shadow's standard cloud PCs currently offer the following specs:
With the Shadow Power Upgrade mentioned before, you will instead get access to the following hardware:
When comparing the power upgrade with the baseline offer, we see that you get a much newer GPU. The RTX3070 gives you about 30 – 50% more fps than the GTX1080. As with all RTX cards, you also get access to real-time ray tracing in supported games which makes shadows and lights look much more realistic. Four additional GB of RAM are also very much appreciated.
On Which Devices Can I Use Shadow Cloud?
Shadow offers apps for pretty much every computer-like device under the sun:
What Do I Need to Play on Shadow?
To play on Shadow, you'll need the following:
Is Shadow Cloud Gaming Worth It?
Shadow as a service aims to give you the experience of having a powerful PC without needing to pay full price upfront. However, as you need a subscription, you're obviously paying a monthly fee instead. So, is it a good deal, especially compared to other cloud gaming services?
Pros
The appeal of Shadow as a service is that you gain full access to the remote desktop. This isn't the case on cloud gaming services like GeForce Now, where you can only stream games – never the whole desktop. It doesn't matter if you own a Mac or a Chromebook, or even just a tablet and phone, Shadow gives you all the advantages of a Microsoft-based gaming machine.
This is the big pro of using Shadow: you can play pretty much any game you want. No matter how old or indie, if it runs on Windows, you can play it on Shadow.
A few online games, such as Valorant and Escape from Tarkov, can't be played on Shadow as they can't be run on virtual machines (VMs).
If you're a fan of running mods for your games, Shadow has another advantage over traditional cloud gaming services. As you're getting full access, you can install anything you want including community-made content.
That also means you can make use of third-party apps and tools that add quality of life options to your games. For instance, you can use trade assistants for Path of Exile and card trackers for Hearthstone.
Finally, Shadow allows you to go beyond gaming as you can use their cloud hardware for other things like running Photoshop, doing video editing, and working with giant spreadsheets. If you're a programmer, you can even use it as a build or crawling server.
Cons
The main downside of Shadow is that it's one of the priciest options in the cloud gaming space. When you factor in that there are no games included, it's not ideal if you're more on the casual side of gaming.
Furthermore, you don't get a plug-and-play experience with Shadow like you get on GeForce Now for example. After subscribing and logging in for the first time, you're treated to a blank slate of a PC, meaning you first need to install all of your apps and games. This isn't that bad though, as downloading to your Shadow PC is incredibly fast. They provide up to 1 GB per second download speed, which makes downloads blazing fast. Your data is of course saved while you have an active subscription, meaning you only have to do this once.
Conclusion
Shadow may not be on the affordable side of the cloud gaming spectrum. But, what it trades for a low price is flexibility. If you can't afford a powerful PC or you can't justify buying one at the moment, Shadow is a good alternative that feels almost identical. You'll also find that it's worth going with Shadow if you want to play in the cloud, but the games you want to play are not offered on other services or if you're really into mods.
Where is Shadow Available?
Shadow currently has data centers in the following locations:
What are the Alternatives to Shadow Cloud Gaming?
The best alternative to Shadow is airgpu, which also gives you complete access to a Windows PC. One key difference is that Shadow is paid monthly, while airgpu is billed hourly. This makes airgpu great for more casual gamers, but much more expensive if you're playing multiple hours a day.
Frequently Asked Questions