airgpu Cloud Gaming – The Ultimate Guide
One of cloud gaming's biggest strengths is to provide you with access to high-resolution and max-performance gaming without the need for an expensive rig. Airgpu cloud gaming aims to stand out from the crowd by providing one of the most flexible services on the market by providing you full access to a powerful gaming server.
What is airgpu Cloud Gaming?
Airgpu is a cloud service that gives you access to powerful hardware for gaming in the cloud. What makes airgpu special is that it doesn't just allow you to play games from a predetermined catalog. Instead, you get full access to a windows machine. You can install any gaming platform and software you want – if it runs on Windows, it runs on airgpu.
Airgpu is billed hourly, which makes it very attractive to the more casual gamer that doesn't plan to play for multiple hours everyday. There are many different hardware options to choose from, which makes airgpu a great choice no matter what games you want to play. Keep reading to find out more about the different options available.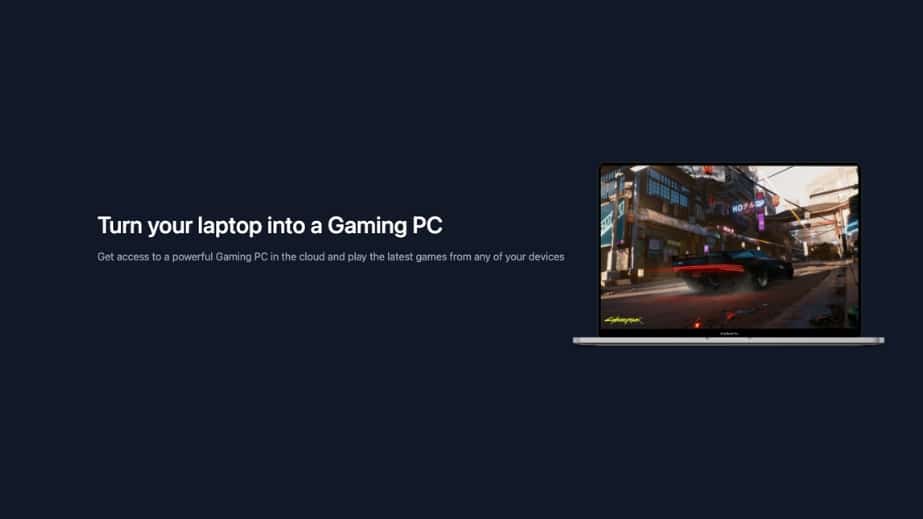 How Does airgpu Cloud Gaming Work?
Airgpu provides you with a cloud-based gaming machine where you can install and run your favorite games. To connect your local device to the server, it makes use of Parsec, a highly-praised free remote connection tool specifically designed for gaming.
After creating an account, you start by setting up your cloud machine on their website. During this setup, you can choose between around 20 data center locations all around the world. Make sure to pick the location closest to you, as a small distance can significantly improve your ping and experience while playing.
In the next step, you can select your hardware setup. Airgpu offers a wide variety of GPUs and CPUs. The more powerful the hardware, the higher your hourly charge.
What's really cool is that you can change your settings on the fly, even after creating your machine – this allows you to save money when playing less demanding games, while still getting the best performance when you need it.
After setting up your machine, you can boot it up via the website. When first connecting to your cloud PC, you have to connect with Windows Remote Desktop. As that's not ideal for gaming, the first thing you should do after connecting is to download Parsec, both on your local device and on your cloud gaming rig.
What is Parsec? Parsec is a free remote desktop application that was specifically designed for remote gaming, which allows you to stream in much higher quality and framerate.
After completing this initial setup, you connect to your airgpu server with Parsec. Once connected, the experience of using airgpu is similar to a local windows PC, meaning you can install Steam, battle.net or any other gaming platform. From there, you simply install your favorite games and start playing.
How much is airgpu and how does the pricing work?
Airgpu's pricing model is different from most other cloud gaming services. Instead of a monthly or annual subscription, you buy credits. These can then be used on any of the hardware spec options on offer. You're only charged while your machine is running, but there's also a monthly fee of $3.50 for every 50 GB of SSD cloud storage.
The hourly price you pay varies greatly depending on your hardware setup. At the cheapest, you can play on airgpu for under a dollar per hour.
GPUs without Raytracing
Airgpu's non-raytracing options are available across all regions. You can choose from the following:
Nvidia Tesla T4, starting at $0.85/hour
AMD Radeon Pro V520, starting at $0.85/hour
Nvidia A10G, starting at $1.15/hour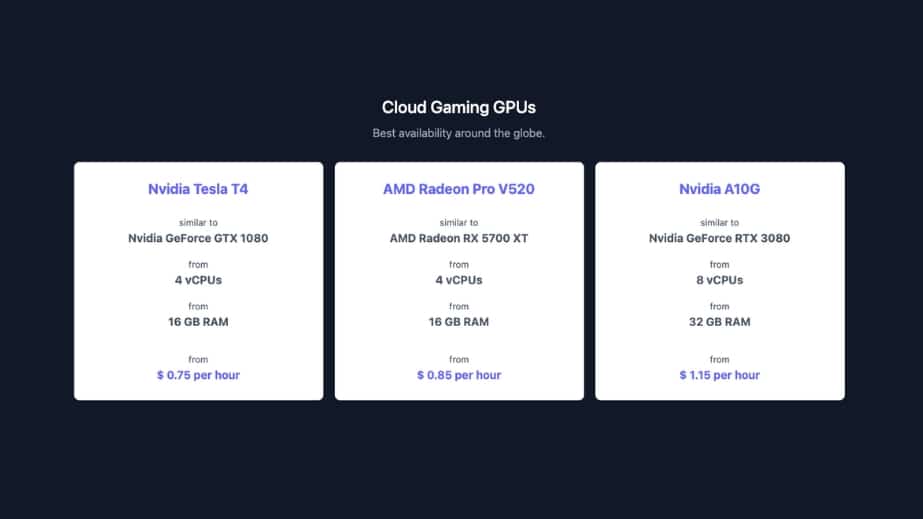 GPUs with Raytracing
The GPUs with raytracing capabilities offered on airgpu are currently only available in the North American region. There are three options to choose from:
Nvidia Quadro RTX 4000, starting at $0.65/hour
Nvidia RTX A4000, starting at $1.10 per hour
Nvidia RTX A5000, starting at 1.55$ per hour
CPU Upgrades
In many of the data centers, you can also choose to upgrade your CPU and RAM. For example, you can get double the amount of vCPUs and RAM (8 vCPUs and 32GB of RAM) for an additional 30ct per hour for all GPUs without raytracing. This can be a very attractive option for games that are typically limited by CPU power, rather than GPU.
Streaming Quality
The base prices mentioned above are for the lowest max quality of video streaming, which is 720p at 60ps. For an additional surcharge, you can upgrade the quality up to 4K.
Spare Capacity
To save money, you can choose to run your airgpu machines in "spare capacity" mode. With this setting, you agree to be kicked from your gaming session if the data center runs out of capacity. In exchange, you get about a 50% discount per hour. During our tests, we have yet to be kicked from our sessions, making this an interesting cost-saving option, especially if you play outside the peak gaming hours.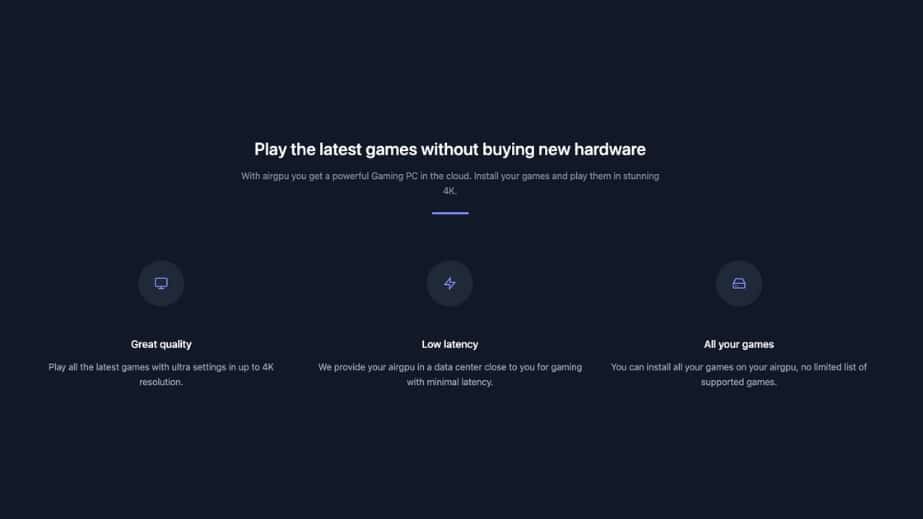 On which devices can airgpu be used?
Airgpu can be used on any machine that can run Parsec or Moonlight, another remote desktop software designed for gaming.
Here are the devices and browsers you can run each app on:
Parsec
Moonlight
What Do I Need to Play on airgpu?
To play on airgpu, you'll need the following:
Is airgpu Cloud Gaming Worth It?
Airgpu aims to provide a flexible service that gives you plenty of choice in both pricing and game streaming quality.
Pros
The primary advantage of airgpu, compared to other cloud gaming services, is that it allows you to stream your complete library of games. You're not bound to a specific list of titles nor do you need to be concerned about games leaving the service.
A few online games, such as Valorant and Escape from Tarkov, can't be played on airgpu as they can't be run on virtual machines (VMs).
Another great thing about airgpu is that you can install mods and 3rd party software. For games like Skyrim and Rimworld, the community-made content adds hours of additional content. Traditional cloud gaming services such as GeForce Now don't allow you to install mods, but with airgpu, you get full control over what you want to install. This also includes third-party apps and tools like trade assistants for Path of Exile and card trackers for Hearthstone.
The service's pricing model is built around giving you maximum control over your spending. Apart from storage, you're only charged for the time you spend playing instead of paying a flat fee every month.
Finally, airgpu gives you plenty of options for specs. You can spend less money to run less intensive games, while still having the option to upgrade to the best gaming hardware on the market.
Cons
Airgpu doesn't provide any games within its pricing. You need to bring your own library by installing a platform on a virtual machine. This means that you need to bear the cost of the titles you want to play on top of paying for credits. However, if you already own the games, this isn't an issue – you don't have to buy them again to play on airgpu.
Furthermore, airgpu requires a bit of fiddling to get started. When compared to other services that provide you with an ready-to-launch experience, having to remote into a cloud machine can be a little intimidating for the less tech-savvy.
Depending on how much you want to play, airgpu can also be rather expensive, especially compared with cheaper options like Boosteroid.
Conclusion
Airgpu is a viable option for cloud gaming if you're short on time and can't justify paying a monthly subscription. Its pay-as-you-go model is perfect for busy gamers who'd like to step up the quality of their games. It's also a great option to play games that aren't available on other services or if you want to play modded games.
One cool use case for airgpu is to use it side-by-side with a cheaper option like Boosteroid. The hourly billing is perfect for only using it when you need the added flexibility. This allows you to save money while still having the freedom to play any game you want in the cloud.
Where is airgpu Cloud Gaming Available?
The service doesn't restrict you from using it based on your region. However, if you want to have the lowest possible latency, you'll need to be located close to its servers.
Airgpu currently has data centers in the following locales:
North America
Europe
Asia Pacific
Middle East
What are the Alternatives to airgpu Cloud Gaming?
Airgpu is most similar to Shadow, which also gives you access to an online virtual PC. The main difference is that Shadow cloud gaming is priced monthly at $30-45 which is equivalent to roughly 30 hours of gameplay on airgpu, depending on specs.
Frequently Asked Questions